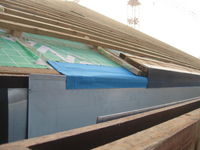 The selection of appropriate materials, as well as the knowledge of the roofing trade, are the most important factors determining the robustness of the work. Our team consists of professionals who have years of experience in roofing work and are masters in their profession. As a result, our company can provide roofing services at the highest level and ensure reliability of its performance.
Roofing services offered are both on flat and sloping roof.

The scope of works :
The roof structure


Wood rafter framing
Steel girders, trusses
Reinforced concrete elements
Prefabricated elements
Metal elements - trapezoidal sheets
Sheet metal and carpentry processing

Roof insulation


Thermal insulation - polystyrene, mineral wool
Vapour barrier
Waterproofing films, membranes

Roof covering


Tile
Metal tiles
Torching membrane

Additionally:


Installation of roof windows
Installation of gutter systems
Roof underfaces with metal or PVC
In addition to creating new, we also cover projects involving the replacement and repair of existing surfaces.